Premium wiring.
Add a custom wiring harness made to our specs for the ultimate tonal package.
Customer Reviews
Write a Review
Ask a Question
Simply Amazing
This is my second set of Lambertone pickups. The Crema and Grinder combination is a game changer. Amazing service, craftsmanship, quality and tone. There WILL be more purchases guaranteed!!!!
04/12/2022
trevor r.

Canada
Crema love
Best pickups I've ever played hands down totally jaw dropping!!!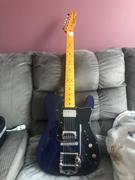 12/22/2021
Kyle H.

United States
Excellent Customization, Quality Parts, Great Tones
My T Style Schecter (Deluxe Style) was in need of replacement for some damaged internal parts after dropping it hard on the stage due to a loose strap. After some research and troubleshooting, I've decided to just replace while upgrade the whole pickguard with pre-wired parts rather than deal with soldering and spending excessive time on figuring out what components went bad. The amount of customizable configurations provided an excellent option for the repair/replacement. So I went for the Grinder pickup for both neck and bridge with individual coil-split on each end. The pickguard came beautifully and exactly with the spec I have configured. As anticipated, with a bit of modification on my guitar the pickguard was able to fit and installed with no issue. All the wiring, components, and soldering were done with excellent job and quality - it's obvious both visually and audibly. The original OEM pots felt loose with some play before it actually turns. The pickup lose half the volume and thins out significantly when coil-split. The Lambertones loaded pickguard completely fixed these annoyances. The Grinders gave it a bit more punch to drive the amp harder, which works great with my pedal setup. The coil-split sounds like an actual single coil that sounds beautifully without losing volume at all. This new loaded pickguard gave the guitar a new life with so much usable versatility that made this guitar a very capable tone machine.