Humbuckers
Our humbucker sets are designed to give you complete control of your tone, regardless of the genre. We make two different models: The Crema, and The Grinder. Each cut through the mix in their own unique way.
Shop Humbuckers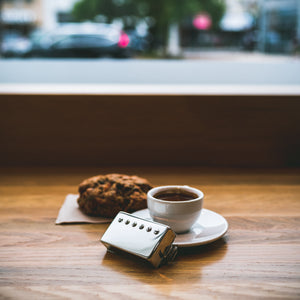 "the Crema"
The Crema produces detailed highs and an unparalleled single coil-like clarity. It was designed specifically with the Worship/CCM guitarist in mind, driving effect pedals extremely well. If you're looking for a dynamic PAF-style pickup on the edge of crisp drive tones, look no further!
"It was crazy finally hearing the sound in my head coming through my amp for the first time! The Crema produced so much clarity and note distinction."
"I played an open G chord after having a set of Cremas installed, and my friend caught my reaction on camera. My mouth was agape, and I was completely incredulous at what I was hearing."
"I have the perfect amount of saturation with amazing clarity. It can do beautiful cleans but soaring leads all in one package."
"I have the Blondies and Cremas now and they blow me away every time I track with them. You can hear every string in full chords and tons of pick definition."
Detailed highs with unparalleled clarity
"the Grinder"
The Grinder is 10% higher output than our Crema model, and has been compared to a vintage PAF with a modern flare. The Grinder sits at the edge of breakup, with a subtle sag of compression with an aggressive pick attack, yet still maintaining incredible note articulation. No dark muddy mids, lost lows, or piercing highs.
"The clarity is unreal. I've never played pickups as full sounding that still give extremely articulate single note clarity as well as being able to hear every note in a chord."
"I installed the Grinder in my Les Paul which gave the guitar so much more versatility. Now I can go from a perfect clean jazz tone to rock extremely easily."
"My Les Paul rocks harder than ever before!"
Thick tone with note separation
Love your tone. Guaranteed.
If you don't love your new tone, we will take your Lambertones back and refund your purchase within 90 days of their delivery.