"If you are getting into modding or repairing your own gear, this is a great kit with the essential tools to help you get started! "
Use Better Tools
Use the quality tools that we use every single day for your own projects.
Shop Tech Tools
"I've been able to use it for everything from wiring up guitars and pickups to making cables and soldering up a number of pedalboards… It has been perfect. It is a professional level soldering iron station and I love it."
Lambertones Solder Station
Solder any circuit with ease using our wide paddle tip for the tough jobs like trem claws and potentiometers, or the precision tip for eyelets and pcb's.
Hybro Screwdriver
Over 70,000 screws and counting on our original Hybro driver. This screwdriver works for you whenever you need it.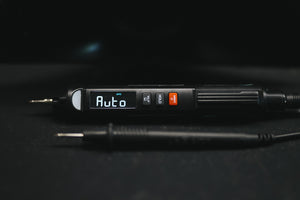 Digital Multimeter
Measure your circuit with ease and precision. Know it will work before you put it all back together.
"The team did such a good job with this solder station. It's a perfect addition to anyone's workbench wether your new or experienced at soldering."
"This is a solid soldering station. The adjustable temperature is great to have and it heats up fast!"