Lambertones Loaded Pickguards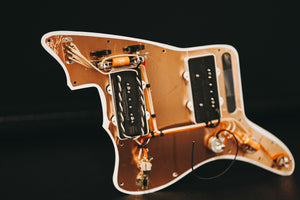 Designed to be Different
With Love
Every part of the process is critical. Each step is planned and practiced. Products are simply the sum of their parts; so when you compile quality components and strategic choices again and again it really makes the difference between fine and excellent.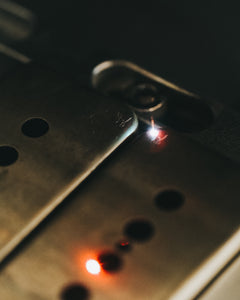 Made in USA
We fully believe a product should be able to stand on its own, where the location of manufacturer doesn't automatically qualify/disqualify it from a perceived quality. That said, we are proud to design, manufacture, wind, test, and fulfill every order in house here at our shop in Southern California. In addition, we've partnered with 920D Custom, Arkansas, USA, to build our custom wiring harnesses used in each loaded pickguard. Details on each harness are above.
Crafted with Care
Premium Materials
We laser-cut our flatwork, press every magnet, and magnetize to the desired gaussian levels to maintain precision winds and more than predictable tone results. Less than a 1% tolerance from every pickup that leaves our shop.
Built and Tested
Every loaded pickguard is built and tested in house so you can be sure the hand-crafted "tone-grade" that just arrived is ready for any gig or recording session immediately after installing. If you chose a humbucker for your pickguard it will automatically come with a 4-wire condcutor for the highest flexibility in wiring opportunities. We use the highest quality possible shielded Gavitt wire to protect your signal chain from the very beginning.
Total Package
Premium Protection
Every loaded pickguard comes in custom packaging to protect the components from even the gnarliest of shipping experiences. The pickguards ship with a removable plastic film keeping them flawless until you remove it after install. Each pickup has mm thick 3M protective shielding to uccessful install without scratches or scuffs.
Mounting Hardware
Every loaded pickguard comes with a COMPLETE mounting hardware kit. This include all screws, springs, and/or foam (in multiple thicknesses) for a successful install. No need to shop anywhere else to get this project finished, we'll give you everything you need to have a successful "tone-grade" at home.