Single Coils
Our single coil pickups will breathe new life into your electric guitar's live performances, studio recordings, and jam sessions. Cutting through the mud so you can be heard.
Shop Single Coils
"the Blondie"
Telecaster
The Blondie pickup set is dynamic, articulate, yet smooth across the strings but will bite nicely with some pick attack. Its bridge is slightly overwound with a unique wire pairing to give a strong lead tone that is perfect for live performance and studio recording without any ice-picky highs. The neck is crisp, soulful, & bodied featuring improved punch and increased highs in comparison to a traditional tele neck pup.
"I installed the Blondies and instantly had way more low end that was clean and articulate. The top legitimately sounded like a record– crisp and clear without harshness. These will be on every album I produce from now on."
"My guitar came alive. I couldn't believe the difference after installing the Blondies. They were bright like a telecaster should be, but never got brittle."
"Clarity, cut, and balance! The Blondie has it all while never getting harsh on the highs or washed out in the lows. The neck is warm, jangly, and has such a pleasant high end finish."
"In my Telecaster the Blondie really smoothened out the harsh top end I was trying to avoid, while retaining the clarity I wanted in a single coil pickup."
Dynamic, open, smooth and soulful
"the Triple Shot"
Stratocaster
The Triple Shot set is inspired by John Mayers favorite 1964 vintage Strat, but with an enhanced dynamic range and overall punch. Featuring a slightly chunky and springy low-end, clean and crisp highs, massive quack in positions 2/4, and all without a heavy and overbearing mid-range.
"Me ha hecho sentir increíble a la hora de tocar mis Triple Shot todo cambia y me permite expresarme aun mejor."
"The versatility is second to none. My new go-to guitar is an HSS set of Triple Shot and Crema wired to a 6 way and there is absolutely nothing you can't cover with that guitar."
Vintage Strat tone with enhanced clarity and dynamics
"the Ristretto"
P90/Jazzmaster
Introducing a P90 tone like never before. The Ristretto features a dynamic range, punch, and note separation never before experienced from a P90.

With a neck output measuring 3.65k ohms and our bridge coming out at 4.95k, it seemingly measures like a "low-output" pickup, but the volume output is on par with any mainstream P90 models. The result is some of the best single coil tone we have ever heard.
"After installing the Ristretto in my Jazzmaster, I actually wanted to play my guitar again. Now, it's my go-to in the studio and a regular on stage."
Far more clarity than before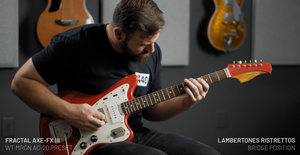 Love your tone. Guaranteed.
If you don't love your new tone, we will take your Lambertones back and refund your purchase within 90 days of their delivery.