Every Connection Matters
Add a custom wiring harness made to our specs for the ultimate tonal package.
Shop Humbucker Harnesses
Designed to be Different
Precision Winding
Deep dive the gear forums on pickup winding and you'll see tons of voices claiming that handwinding and variable tension is where the magic is. We challenge that concept and have the data to prove it. Every set that leaves our shop is within 1% tolerance of every pickup we've ever shipped. No more wondering if you got a lemon model. Whether you're playing to your dog or you're on stage for 100,000+ fans, the Lambertones are the same.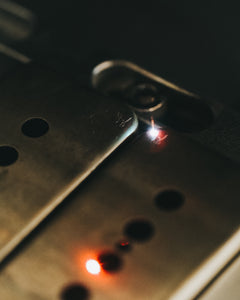 Made in USA
We fully believe a product should be able to stand on its own, where the location of manufacturer doesn't automatically qualify/disqualify it from a perceived quality. That said, we're proud to design, manufacture, wind, fulfill in house here at our shop in Southern California.
Crafted with Care
Premium Materials
We exclusively use nickel-silver covers and they are then plated according to the desired finish. Nickel-silver is known to be the most transparent sounding material available for passive pickups.
Flexible Applications
Each humbucker set can be selected with 2-wire or 4-wire condcutor to the highest flexibility in wiring opportunities. Either option uses the highest quality possible shielded Gavitt wire to protect your signal chain from the very beginning.
Shipped with Style
Premium Packaging
Every pickup set comes in its own premium box with laser cut foam and every cover has mm thick 3M protective shielding to aid in a successful install without scratches or scuffs.
Special Gift
Every pickup set is shipped with a special gift for you to enjoy. We're very passionate about this and hope you love it as much as we do, so tag us in an Instagram/Facebook post and we'll repost it to our story!
Grinder's are featured in