From the Gound Up
A New Era
We went the extra mile with this one. With the exception for the iconic shaped "Filter'Tron" cover, we redesigned every part from scratch. Multiple baseplate models, injection molded bobbins, SLA printed spacers, two custom AlNiCo magnets, new screws, and much more.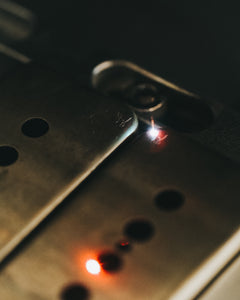 Made in USA
We fully believe a product should be able to stand on its own, where the location of manufacturer doesn't automatically qualify/disqualify it from a perceived quality. That said, we're proud to design, manufacture, wind, fulfill in house here at our shop in Southern California.
Crafted with Care
Premium Materials
We exclusively use nickel-silver covers made in the USA. They are then plated according to the desired finish. Nickel-silver is known to be the most transparent sounding material available for passive pickups.
Flexible Applications
The Lamber'Tron can be mounted in (5) possible scenarios. Two Gretsch platforms, one pickguard mount, and two more adapter ring mounting options for Gibson and Fender. Should you purchase a single pickup, neck or bridge, they come with a 3-wire isolated grounded shielded Gavitt wire allowing you to correct for phase when combining with an non-Lambertones pickup set.
Refresh Your Tone
Replace Old Rings
Have grungy or cracked pickup mounting rings? We have OEM Gretsch mounting rings in stock and ready to refresh your axe.
Special Gift
Every pickup set is shipped with a special gift for you to enjoy. We're very passionate about this and hope you love it as much as we do, so tag us in an Instagram/Facebook post and we'll repost it to our story!